If you're thinking about volunteering to take part in a research study you'll be part of a team of over 1 million members of the public who participate in research studies every year.
Here, we guide you through the the "how" of your research journey and signpost to useful resources. Here are the steps you'll need to follow:
Understand what's involved and motivations for wanting to volunteer to take part

Find a study that's right for you

Read the study information and see if you are eligible

If you are eligible, contact the study team and tell them you're interested

Download and save the study information

Have your questions ready for the research team

Understand the next steps
Use the small arrows next to the headings below to reveal more information.
There are many ways to get involved in research.
Here's how to search for and find a study on this site. You can search in the search box at the very top of this screen by:
Postcode or town

Body part - i.e foot

Condition - i.e cancer

Medication i.e.thyroxine
You can filter the search results by using the drop down boxes on the left hand side of the screen.
---
Find a study for a particular condition
Below is a sample of a study page. By clicking on the little blue arrows next to each of the headings, you can reveal all the information about the study.
Start with "who can take part?". This is vital as it sets out the characteristics and health conditions of the people the research study team are looking for (inclusion). It might also detail the characteristics of people they aren't looking for, such as people with a heart condition, of a certain age or people on a specific medication (exclusion).
This is important because every research study is set up to answer a specific question, and therefore comes with a set of criteria.
You can only volunteer if you meet the criteria. Use our glossary of medical research terms to guide you.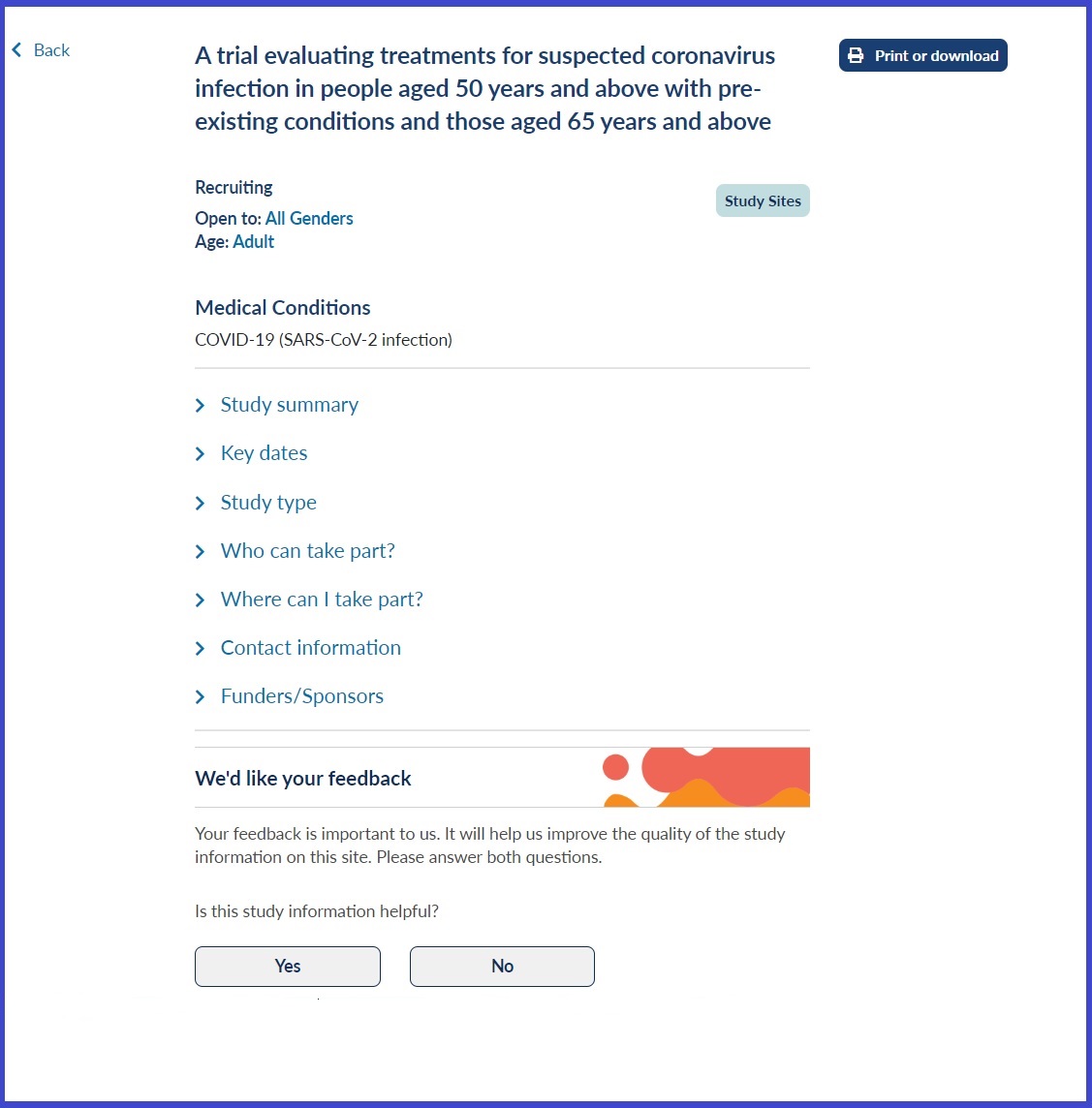 So you think you might be eligible by reading the "Who can take part" in the study detail and feel you can get in touch with the team to volunteer. There are two places that hold this important contact information:
The "Ask to take part" button in the study detail enables you to send a message to the team so they can contact you about next steps (this is the easiest).

Contact information: contains the phone number and contact name of someone on the

research study team.
You might want to save or share the study details with your GP, healthcare professional or friends and family. So, once you've found a study you might be interested in, here's how to do this:
---
We've gathered all the questions you'll need to ask below. You can also download and print these questions from within the study detail once you've contacted the study team.
Start with the basics:
What is the aim of the trial?
How will it help people?
What will I have to do if I take part?
What treatment will I get if I don't take part?
Where is it being held?


About your treatment
Every clinical trial has its own risks and benefits, and it's vital to understand these before you give your consent. If you're taking part in a study for a new treatment, your questions might include:
What treatment will I get if I don't take part in the trial?
What are the possible side effects of my treatment?
How may the treatment affect me physically and emotionally?
Who can I contact if I have a problem? Will someone be available 24 hours a day?
What extra tests or appointments will I have?
Will I definitely be given the new treatment if I take part? (sometimes researchers will need to compare a new treatment to an existing treatment or no treatment at all)
What plans are in place if anything goes wrong?


About the commitment you make
How long is the study expected to last? And for how long will I need to take part? (Some studies may just involve filling out a survey; others might last for a number of years)
How much of my time will be needed – including travel time?
Will I need to take time off work?
What will happen if I stop the trial treatment or leave the trial before it ends?
If the trial is testing a drug, will I have to collect it from the hospital, will it be sent to me by post or will I get it through my doctor?
Will I need extra help from family and friends?
Will the costs of my travel and parking be reimbursed?
Will I have to fill in questionnaires or keep a diary?


About what happens after the trial
If you're volunteering for a study, you may wish to know what happens after it ends. So, you might want to ask:
How long will it be before the results of the study are known?
How will I find out about the results at the end of the study?
Getting in touch with the team and being invited to take part in a study is just the beginning.
The study team will be in touch with you if you are eligible to take part and they will be your point of contact from this part of the process onwards. They will guide and support you through each of the following steps, providing you are eligible to take part and meet the criteria set out by the research team.
Initial assessment

Screening appointment

Consenting process

Study start and end
You might want to read stories from people just like you who already taken part or you might want to speak to a research champion over the phone to just talk things through. You could also remind yourself about how important volunteering for research is by reading the latest research headlines. There are also other ways to help that don't involve a research study.
---
Before you go
Take advice - it may be a good idea to take some time to talk it over with family or friends – unless a decision is needed urgently because of your medical condition.
Look at

other ways to get involved in research